Take control of your music
20,000 users trust Astiga as a YouTube Music alternative for your own music library.
Astiga is a music service that puts you in full control of your music library. Choose the music you listen to and its audio quality, including lossless and HD streaming. Sync your music for offline playback to your devices, and cast your music to playback devices around your home.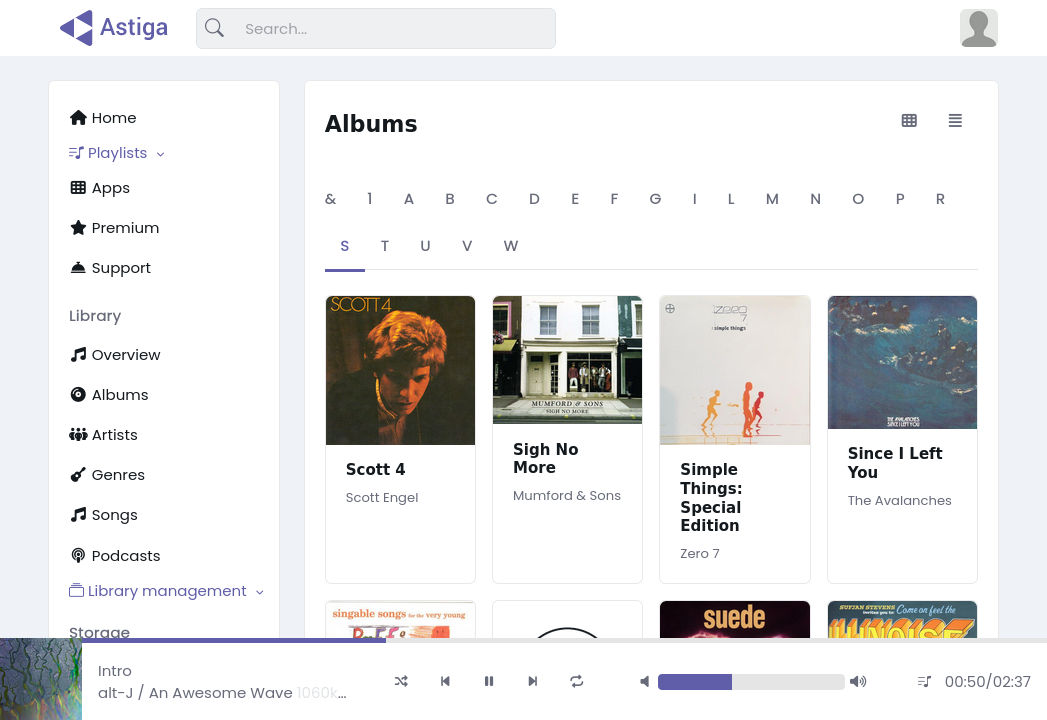 What makes Astiga different to YouTube Music?
YouTube Music and Astiga are similar services. You can stream your own music library to your devices inside your home or outside.
There are also some big differences. Astiga is run independently by indie-developers, whereas YouTube Music is run by the "Big-Tech" behemoth, Google. What are the other big differences?
Your library
You, not an algorithm, are your own best curator. We don't believe in pushing music on you that you don't want and inaccurate "recommendations". Astiga uses your own library, curated by yourself.
No missing songs
Missing songs is a common problem in YouTube Music. Sometimes you can get missing tracks in the middle of albums. With Astiga it's your music, so all your albums are complete.
No limits
YouTube Music allows a maximum of 100k tracks in your personal library. With Astiga, there's no limit to your music library size.
Privacy by default
We make money by linking you to your music, wherever you are. We don't sell advertisements and we don't sell your data.
Choose your own player
You are not forced to use the YouTube Music app or any other software. Astiga is Subsonic compatible; you can use the official app or any Subsonic music client to play and sync your music.
Choose your storage
We don't force you to store your music in one place. Instead, we have connectors to all the major cloud storage providers. This means you are in control of where you store your music.
Audiophiles may apply
YouTube Music does not support high quality audio; at most it streams 256 kbps AAC. With Astiga you can stream your own HD or lossless audio to any of your devices, even on mobile connections.
Your library, your way
Astiga allows you to re-tag your music so it can be organized in different ways. Tired of being forced into a user experience you don't want? Then rename, re-tag and re-organize your music as you want!
Full search of your library
It's 2021, and YouTube Music still doesn't support searching of your uploads properly. Astiga just searches your private music library, giving instant, accurate results.
Want your music back?
With YouTube Music, if you want to get your music uploads back on your computer you need to order a new "Takeout", a convoluted export process which oftentimes misses tracks and loses artwork and tags. No such problems with Astiga: simply download from your cloud storage provider.
Don't take our word for it...
The music streaming service you control
Astiga is like your own private Spotify; a music streaming service that connects your to your music, wherever you are.
Wide storage support
Astiga supports a plethora of cloud storage services, including Google Drive, OneDrive (for Business), Dropbox, Amazon S3 (and S3-compatible providers such as Wasabi or DigitalOcean Spaces), Backblaze B2, FTP(S), WebDAV (like ownCloud, Yandex, Synology) and SFTP.
Works wherever you are
Astiga works in your home and out on the road. The official Astiga app supports Android Auto, allowing you to easily use Astiga while driving, plus you can synchronise for offline access.
Your home music network
Astiga's app supports Chromecast, and you can stream to your browser. There is support for your Google Home, allowing you to easily play back your music without using your phone.
Wide file format support
Astiga supports MP3, AAC (MP4), OGG, Opus, WebM, WAV, ALAC and FLAC.
Includes podcasts
Keep up to date with your favourite podcasts by storing them with Astiga. Download for offline access and to listen on a plan, in a car...
Offline music
We don't all have high speed mobile Internet nor unlimited mobile data plans. This makes offline important. Astiga allows synchronisation to your devices for offline, local playback. Ideal when travelling!
Switching from YouTube Music?
Ready to make the move? Here are the steps you need to follow. Remember we're always here to help you make the move!